November 2017
The layout of EggCube Cleint & Server has been conveted into an addon Mod for ease of use.
Current release of the EggCube Mod is Stable_v1.1 found on BitBucket and GitHub, see the changes here and list of users here.
October 2017
Work has started on EggCube Client & Server map restriction-free binaries that connect to tm's masterserver.
Downloads can be found on found on BitBucket and GitHub.
September 2017
New servers have join tm's masterserver which include: |VAH| Servers 3 & 4, Jasiel's Server, Avengers, and Hyperblast.
Now there are a total of 13 servers.
A new 10 year domain has been added to the site: eggcube.party
HTTPS has been enable using certificates from LetsEncrypt.
A link has been created between the IRC and the Telegram group, messages are now sent and received from both sides.
August 2017
|SE| Servers have fully migrated over to tm's masterserver.
Windows and Linux players can connect by downloading the batch or shell scripts found here or here.
Place the bat or sh script in AssaultCube's main folder and run the script to start AC.
OSX players can connect by adding this command: -mgc.fr.to --mastertype=0
Server owners that wish to migrate over to tm's masterserver can add -mgc.fr.to to their server.
Reasons for the move can be found on this pastebin.
July 2017
More progress on the Launcher, Server browser has been implimented half way, and v1.1b beta is out for testing.
Users can now additionally interact with the server list by refresing, canceling the refresh of the server list, and selecting servers to view players via the Launcher's servers interface.
We are currently working to complete the server browser section by removing the static link to the masterserver, implimenting player search, and improving the performance in displaying data from servers.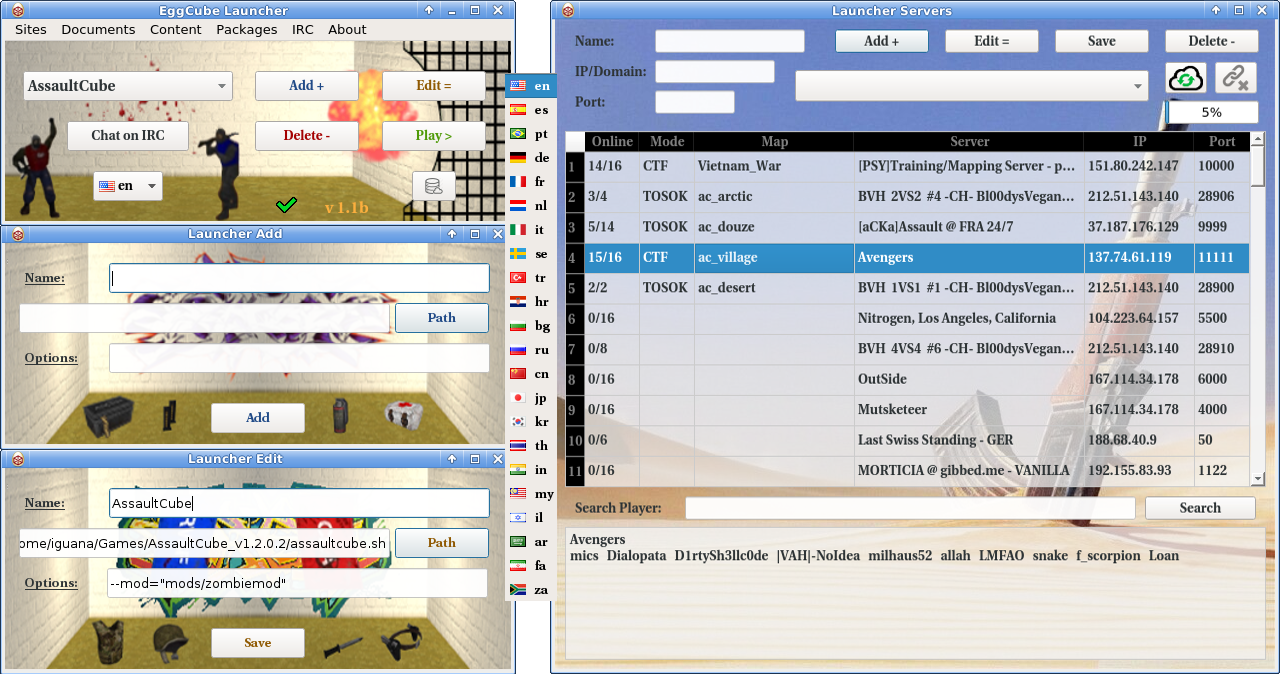 March 2017
There is progress on the Launcher, the name has been changed to "EggCube Launcher" and release v1.0 is out.
Users can add, edit, play, or delete, their games to and from the launcher's menu and choose between 20+ languages for the Launcher's interface.
We are currently working to add a server browser section so that users can add, edit, or delete custom masterservers for out of game viewing and player searching.
Febuary 2017
Gema Central has been blacklisted from the AC masterserver and it has moved to an alternative masterserver hosted by tm due to the events that took place.
For others players to connect, they can either add these menu scripts here (main AC/config) and here (main AC/scripts), then connecting to Gema Central can be found in Multiplayer -> Other Servers <~>
Do this in game: /alias gc [connect gc.fr.to 1111] and connect with typing /gc
Or add this string to AC startup to connect to the alternative masterserver:
-mgc.fr.to --mastertype=0
Work on an "AssaultCube Launcher" has started, using C++ and the Qt framework hosted on Btbucket and Github.
January 2017
There are now 2 alternative package servers for AC, the main one hosted by Iguana here and a mirror hosted by tm here.
An IRC server (eggcube.party/6667 #public) has been created to contact people regarding this community that can't join the Telegram group.
December 2016
The site has recovered from the take down by the previous host in Switzerland and is now hosted in Russia.
Videos
Showcase some maps with custom content and gameplay: